Fine Arts Perth, Performing Arts Perth, Artists Perth
Links directory of the arts in Perth Western Australia, is dedicated to my friend and arts teacher Robert Juniper and the artists of Darlington in the hills of Perth. With the turmoil in financial circles, now is no better time to invest in art and supporting Perth artists helps to keep Perth artists producing fine fine arts and performing arts. Perth artists can hang photos of their art in the Online Art Gallery of Perth. The public art at Cottesloe Beach and Perth artist friends prompted me to promote Perth arts with web marketing. Until I get time to develop a website this webpage is the home page of www.artaustralia.biz
Photos of Fine Art Perth


Public sculpture, Perth Beach

Photo of Perth artist Bob Juniper and Jon Grummels at an Art Gallery Perth



Sculptured Aboriginal Art Perth


Award winning public art Perth by a Darlington artist.
Painting Art Perth

Notices of your Perth art exhibition can be posted in The Perth Calendar. It's free and first on major search engines for "calendar perth". It's my volunteer contribution to art in Perth.

Performing Arts Perth

Promotion of performing arts in Perth is offered free to Perth musicians, Perth dancers, Perth actors, and anyone wanting free marketing of performing arts in Perth via THE Perth Calendar of Events where you can post Perth performing art gig dates, photos and links to your website.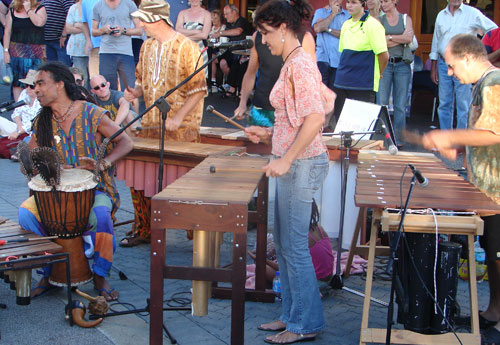 Photo of street performing arts in Perth's port city of Fremantle
Perth Artist Links