Time based advertising. Add 20% for 6 months
---
$364 pa Standard directory listing Less than $1 per day. See example at
www.italianrestaurantperth.com
or www.indianrestaurantperth.com
---
BANNER ADS
Cost depend on:
competitiveness of the page (suburb deli Vs property investment)
its performance at driving traffic. (much depends on performance in search engines)

Position of the ad, eg above or blow the fold.




The following is a guide.

Contact

Ben for a quote
If you don't have a website we can develop, market and host your site @ $500 set-up and $1,000pa
25 cents Pay Per Click (Cost Per Click)
Advertisers get :
HUGELY discounted PPC rate off the market rate set by Google's Adwords.

FREE photography with photos of Perth restaurants and their dishes uploaded to the net.

login to click statistics from an independent North American company, or

pay full price via a broker / media buyer such as Google's AdWords. Adwords is Google's brand name for pay per click marketing. Just to confuse things Google calls it Cost Per Click (CPC = PPC)
PerthPerth.com rents space to AdWords at the BOTTOM of most PerthPerth pages. If you deal directly with PerthPerth you can set your PPC budget (min A$400) @ 50% per click (PPC) DISCOUNT on what you've been paying major search engines.
PPC internet marketing rates depend on the keyword phrase/s. Who sets the market rate for a phrase which includes the word "perth"? Answer: Google. Example at the time of writing, Google's average CPC was $1.81 for the phrase "hotel perth". Search "traffic estimator" to see what it is now. @ $0.90 PPC a hotel would get 444 UNIQUE visitors (interested customers) seeking hotel sales information for $400 invested. PPC type of internet marketing is also known as pay for performance and is a a lot more effective than push marketing such as un-read junk mail stuffing up mail boxes. Scenario: If a flyer costs $1 to design, print, deliver and only 1 in 10 are read, then each read flyer effectively costs $10 which is a lot more than internet marketing to willing visitors to your sales information.
Another way of thinking about pay for performance PPC internet marketing is: If people ain't click'n your ad, you ain't pay'n.
Benefits of PPC Internet Marketing in Perth
PerthPerth charges a half of what you and your competitors in Perth are paying Google.

Free ad design

One time $100 click stats set-up for clear ad statistics

No PPC / Adwords management fee on top of your CPC fee.
---
All Internet Marketing via Restaurant Perth are in Australian dollars or trade dollars and can in your design include:
Address and phone number

Link to your web address or Email address

Full screen video clip
Free Internet Marketing Perth
Your web page in The Perth Restaurant Forum Post your pitch, photos, links for free.

For not-for-profit organisations, training how to uses The Perth Restaurant Forum

All clients get a free linked pin on the, Perth Restaurant Map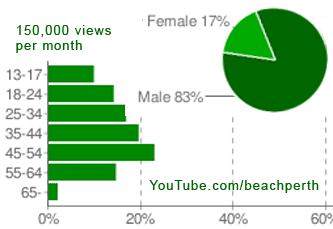 Our online TV station (ipTV Perth) can upload your TV ad like the example above and broadcast (netcast) it to EXACTLY the right customers using search engines to connect with your sales information with statistics of completed views. At left, see internet marketing video stats.
---
Internet Marketing PerthPerth Options for Negotiation
---
Host your web page on PerthPerth.com
Negotiated fee depends on how valuable the page phrases are. Example $1,700 for exclusived use of landing pages hosted on PerthPerth and exclusive lease of our domain name linking to it:
Pages which would have a higher internet marketing cost:

Top Internet Marketing Perth