Welding Repair & Welding Projects Perth Western Australia
Perth welder providing high quality aluminium alloy, steel and stainless steel welding Perth wide to Australia's LARGEST mining machinery manufacturer (Melbourne). Ian has brought his experienced steel welding repair business to Perth and is currently providing contract welding services Perth wide for the:
Repair of mining machinery equipment for large mechanical engineering firms in Perth, skid steer buckets etc.
Boat repair and box trailers and boat trailer repairs including tinnie boat aluminium welding in Perth of aluminium dinghies, Marine grade stainless steel welding of yacht handrails and stainless steel boat fittings.
Perth concert stage and film set welding, light stands.
Home maintenance: welding gates, welding safety guard rails, welding pool fences, welding steel patios pergolas trusses
Civil engineering and construction welding, Engineering welding mining machinery buckets, blades, welding repair of used mining equipment in Perth.
Civil engineering welding, structural welding for the building industry, building maintenance welding, eg lintels, steel joists, steel frames
Oil & Gas or mine maintenance welding, Plant construction pipe welding, mining plant and equipment: earth moving machinery, crushers, grinder repair welding in Perth Western Australia, at cheap rates to capture new Western Australian welding business market share.
Aluminium Boat Builder Perth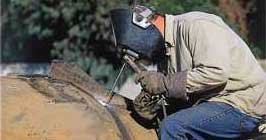 and Boat Repair Welder Perth
Types of Welding Services in Perth
MIG welding
TIG welding (inert gas welding)
Manual metal arc welding Perth (stick welding)
Oxy-acetylene welding
Cutting steel with thermal lance
Welding training Perth.
Welding Materials Welded in Perth
While Ian's welding business in Perth currently specialises in heavy mechanical industry equipment and machinery contract welding. No welding job in Perth is too small. Telephone Ian's mobile welding Perth wide repair service for a welding appointment at your Perth location.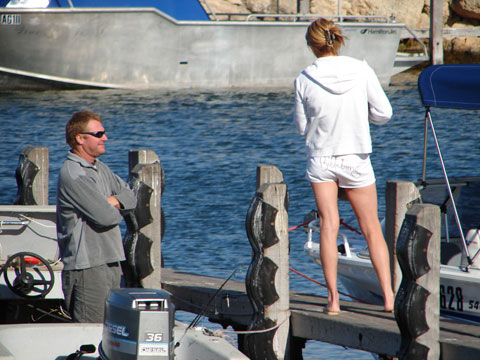 If you show him your secret Perth fishing spots Ian will give you discount welding.
Contact Perth Welding Services
Ian is a hands on Perth businessman so it's best to SMS 0427-048-958. Alternate form:
Our welding services project manager or welding trainer in Perth will get back to you within 4 days.
We don't do plastic welding in Perth but if you do, phone us.

Look for the spanner icon on the BIG Perth Map above for our welding workshop/office location