Amazing teacher, thoroughly enjoyed every lesson. Highly recommend to anyone who needs to up skill or to simply learn different software packages.
Pauline Salmon, retired from the ABS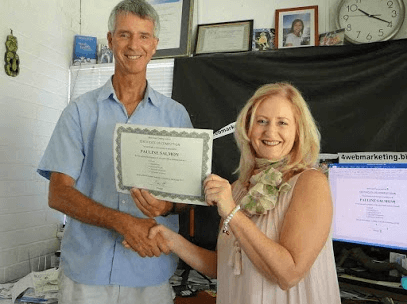 ---
Please find attached another payment for Hans for his training tomorrow. Keep up the good work!

Kind regards

Anne David
Pilbara Support Co-ordinator
Komatsu Australia Pty Ltd www.komatsu.com.au
---
Ben's hands-on, set by step teaching method helped me in a practical way to understand computing software principles.
Alex Ioasa
Kimaju Mining Brazil
---
I just spent an exceptionally informative morning with Mr Ben Grummels of 4 Web Marketing - I went to get a bit of extra help on my rusty FrontPage (Expresson Web) skills. I got far more than I imagined - in fact came away completely enthused and very excited about the possibilities that were opened up with just this two hours of intensive training with Ben. He is a good teacher, able to provide a flow of information in a way that can be easily recalled - and was also able to easily adapt to my needs and questions and existing level of skill. He gave much more than I expected and I would recommend him to anyone wanting a really intensive boost with their website development. He can assist you to get your site into a position of really being seen - read "found by those who wish to find it!" and he helped me to understand easy ways to accomplish that. Thank you Ben.
Shazar Robinson www.besthealth.com.au



Thank you to all the students who wrote good reviews about my computer training in Perth. l loved teaching you,
Best wishes for your future personal and professional development.
Ben Grummels.


I started photography when I was in high school. Being poor I had to borrow my friend's camera. I persisted, and won 3 consolation prizes in local regional school competitions over a 2 year period. Thanks to Ben Grummels, he taught me how to do multi-layes in Photoshop.
---
Dear Ben and Joan,
Thank you both for a wonderful year full of valuable learning experience and your endless support. Ben you are an amazing teacher, who without your never ending time and effort, this incredible experience wouldn't be possible.

I have taken away so much knowledge and understanding to not only the search engine profession, but also life's most valuable lessons and advice. Thanks Joan

I would strongly recommend this amazing experience to anyone looking to get the best of learning on offer, which with the best of training and education available also includes the support and advice of tow of the most incredible people.

Thank you both again. Robert Lester-Smith.
---
Perth Computer Software courses