Stretch Hummer Hire Perth
Stretch luxury limousine Hummer hire in Perth with the superbly appointed PINK HUMMER OR BLACK HUMMER hire. The BIGGEST and the BEST Stretch Limousine in Perth, Western Australia. When its a big day or night out and you are looking to make an impact in a limo Perth then you can not do better than hiring a chauffeur driven limousine in Perth like Stretch Hummers for your next limousine excursions.
Our Perth Hummer hire has got wow factor, its head turning traffic stopping appeal can now be yours to hire in PERTH for your function or event. Enjoy outstanding quality representing the very best in stretch limo hire Perth.
STRETCH HUMMER HIRE PERTH` 14 seater the most luxuriously appointed around and the most exciting Hummer hire experience in Perth - EVER! Hummer hire limousines Perth have never been so much fun!!! As soon as you climb in your Hummer for hire Perth. Its showtime with karoake Playstation3 and 3 LCD screens.
Not only do you get the best PINK HUMMER HIRE PERTH, WHITE HUMMER HIRE PERTH OR BLACK HUMMER hire Perth limousine in all its 10 metre glory but you also get the best service, borne from years of experience in the Perth Limousine industry. Your driver is trained to the highest chauffeur standards he also has Police clearance in WA to ensure you're in the very best hands, sit back relax and enjoy the "Ride of your Life" in the PERTH HUMMER HIRE EXPERIENCE
Hummer Hire Perth Booking
The Stretch Hummer Perth was custom built for us in Los Angeles and comes in the most stunning black or pink colour which says clean, class, quality. A universal favourite with:
Stretched Hummer Hire Perth for Weddings

Stretched Hummer Hire for Swan Valley wine tours

Stretched Hummer Hire for Perth School balls

Stretched Hummer Hire Perth for Corporate functions in Perth

Stretched Hummer Hire in Perth for Hen nights
As we say at Perth Stretch Hummer "its not where you are going, it is how you get there"!!! Make sure its the best Hummer Hire. Phone Carly in Perth now on 0437 54 66 42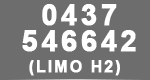 Video Stretch Hummer Limo Hire Perth

When you are looking for "hummer hire Perth" make sure you hire a Perth Hummer not just any stretch limo hire but a PERTH HUMMER.

We can also arrange stretch Hummer hire Perth in
White, Pink, Black or Silver Hummer Perth. Phone 0437 LIMO H2 (546642)