Computer Training in Perth is open for enrolments now starting in February 2023. Contact experienced computer software teacher Ben on phone number 0418 958 799 to start your 2 hour block of computer software training in Perth at our training centre or your office.

Quality computer software training in Perth's northern suburb by experienced, cheerful, Perth trained and qualified instructors. Computer Training / Internet Training Short Courses for beginners. Professional development for teachers and business executives, business computer software training courses, adult education Perth.

Tailored, modular computer training and internet training courses backed up by online training manuals, for a variety of computing students: (business, beginners, IT techs, youth students, mature students, etc.)

Your computer lessons are saved in The Cloud, so that you can practice computer exercises when you get home.

Training Certificate after completion of 8 hour internet course. (RPL for reduced hours.)

Money back GUARANTEED productivity after one hour of computing training.

Discounted computer coaching :

when 2 or more enrol from the same organisation or training course.

students.

not-for-profit organisations in Perth.

pensioner discounts and Centrelink card holder discounts.

Advice on where to get good, free software for business productivity

Hands on computer coaching with latest industry standard software on new computers at our computer training Perth venues.

Small groups for computer training, internet training and other software training at your pace.

Computer training is available on our laptop computers at YOUR Perth office / home / training venue if you prefer to add the call out fee to any Perth suburb.

How to use your new computer skills to make money working from home in Perth.

Pace of computer drills, hours of computer exercises and internet training, can be altered for small Perth group training.


PHONE 0418 958 799 computing teacher Ben Grummels in the Perth suburb of Trigg. Ben has taught at WA high schools and adult education TAFE night classes in Perth, with Police Clearance.

If you are from regional Australia or an overseas business student see hotels in Perth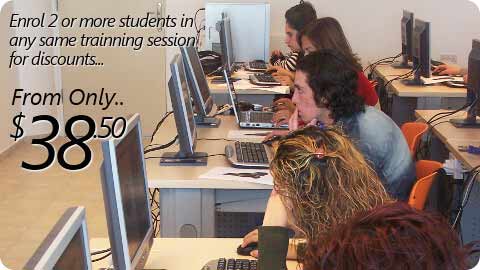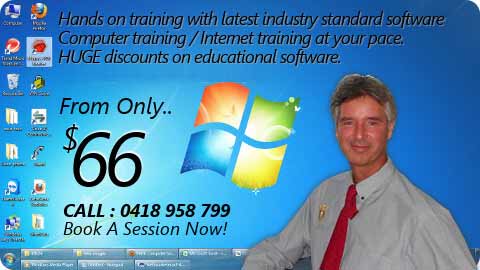 Computers, software and online training manuals provided.
Enrol 2 or more students in any same computer training or business computer training course in Perth @ $50 per student. It' the cheapest software training price in Perth.


$50 Computer Training Perth Enrolment Deposit