Gas, Water, Electricity Supply Perth
Currently water and electricity utilities of Perth enjoy a virtual monopoly but deregulation is coming. If you need a new utility connection because of moving house to Perth or within Perth or moving to new office space these Perth utility links may be useful.
Gas Utility Perth
Alinta Gas With the worlds second largest natural gas supplies in Western Australia, you'd be nuts not to get natural gas supplied to your home. The Alinta Gas, West Farmers and AGL Perth gas utility, supply clean gas at reasonable prices. Gas retailing was deregulated in 2017.
Water Utility Perth
Water Corp Perth is the Perth utility monopoly on the supply and distribution of mains water. They bill the owner or agent direct and they may pass on the water usage charges to tenants. WaterCorp supply good quality drinking water within WHO standards. Only at the end of summer I might boil Perth drinking water to drive off the chlorine that WaterCorp use to combat higher populations of water pathogens. Sources of water by percent in Perth: Aproximately
40% underground.
40% desalination of Indian Ocean water and
7% from dams.
You can apply for water bill concessions
PERTH WATER SOURCES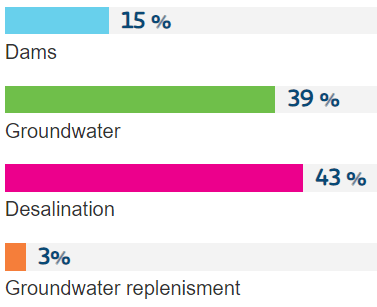 Electrical Power Supply Perth
House Hold Electricty Price Rates Perth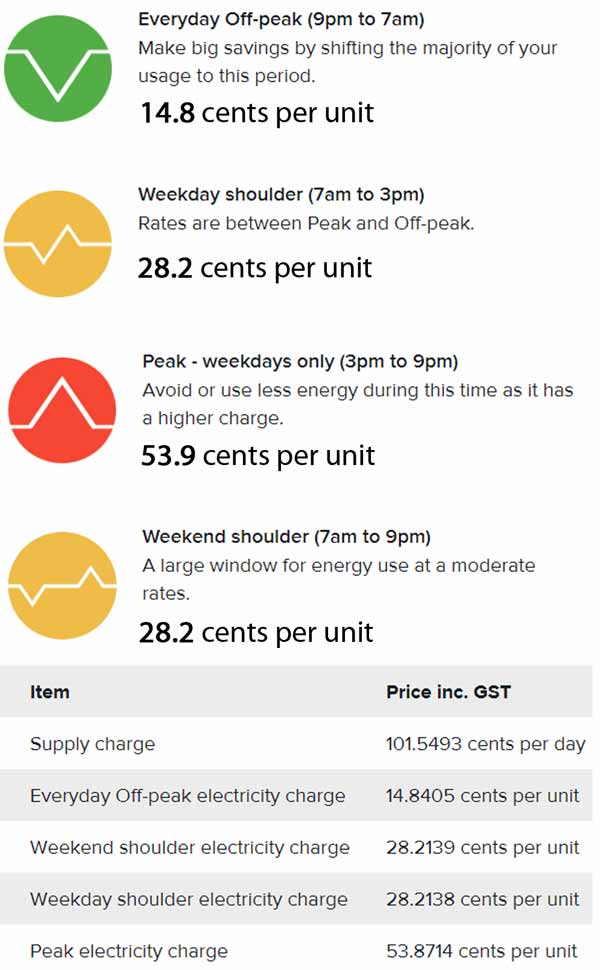 Source as of July 2018, Synergy website.
For houses with smart meters. Otherwise the electricty kiloWatt hour rate (kWh) rate is 28 cents per kWh (unit)
PASSING THE BUCK: 8:45am 23 Jan 2014 I'm writing an account of disturbing events. Two weeks ago I contacted Synergy to have the electricty bill put in my wife's name after the previous account holder moved out from my home/office. We've been waiting. This morning a hard nosed lady from Western Power arrived at our door to disconnect the power. She refused to accept our desire to pay and threatend disconnection at the street. Despite me saying 3 times she can disconnect us, she left without further discussion. Threats without justice and zero feedback from goverment electricity supply companies, after requesting to pay electricity bills, is disturbing. Not only at risk is food storage but income of the only bread winner in our family where my wife stays, potentialy in a home without electricity, to take care of our 2yo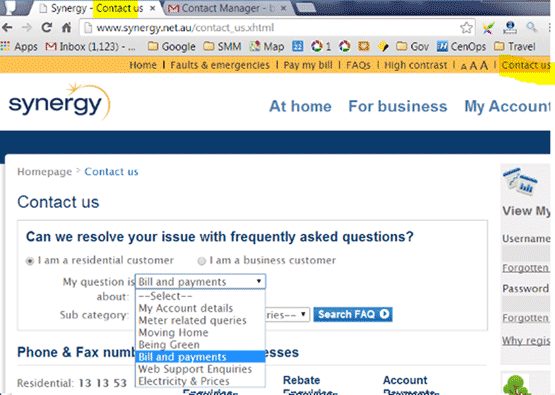 Don't rely on contacting Synergy via their web site to request taking over bills of house mates who moved out. The next communication is a hard nosed Western Power representative at your meter box to disconect your power without consideration of the facts nor justice. Very unAustralian.
Synergy electric power utility Perth, is the retail division of the electrical power supply company of Perth. Synergy electricity supply 240 volts of alternating current to Perth homes. Synergy phone number: 6212 2222 It is reasonably reliable. It's interesting that you won't find mention of the word "electricity" nor "electrical" on their invoices. I guess it's like the department of transport now being named the Department of Planning and Infrastructure or the fire brigade Perth Telephone: 000, is now FESA (Fire & Emergency Services Authority) With so many people coming to Perth, it is one of the reasons for this page to help connect plain English with whimsical government named agencies in the era of political correctness. On average I'd have one power supply failure from this Perth electricity utility every few months though with growing use of air conditioners, supply of electricity from this Perth electricity utility on the hottest summer days has been limited. USPs are available for critical computer data protection.



In 2011 the Australian government would not let my Thai wife stay in Australia for the birth of our child so I went to Thailand to take care of our baby. I did not get notification of an electricity bill till after I returned to Australia which I paid on arrival but too late to get a $290 bad debt credit rating by Synergy on the Australian national record database VEDA.
Western Power build, maintain and operate the electrical power grid in Perth and the south west of Western Australia. Telephone contact Western Power on 131351 for information, emergencies, claims and electrical faults.
If you need to disconnect from Perth utilities and utility bills after selling a house in Perth, use the contact links above.
HOUSE RENOVATION SERVICES PERTH
TRADIE UTE UPGRADE MODIFICATIONS PERTH