Rents for office space in Perth have fallen by more than 40% since the end of the Western Australian mining boom. Office space construction in the Perth CBD, which started in boom times, has led to over supply. In during the 2022 Covid-19 pandemic economic crisis even more office space in Perth became available after businesses fled their offices. 2022 Perth office space bargain deals for renting vacant office space in Perth abound. There is plenty of vacant office space near Perth's CBD, in the metropolitan area within 2 km of the CBD and surrounding suburbs of Perth such as West Perth, Subiaco, South Perth, industrial Osborne Park, cultural Northbridge, apartments of East Perth, Burswood and cosmopolitan Victoria Park. Low office rental rates in Perth combined with cheap residential rents have made Perth an attractive proposition for companies to setup offices in Perth. Proximity to South East Asia / ASEAN and the same time zone of Singapore and other Asian cities also makes for a safe, secure and viable proposition to lease offices in Perth
Thinking about vacant office space near Perth: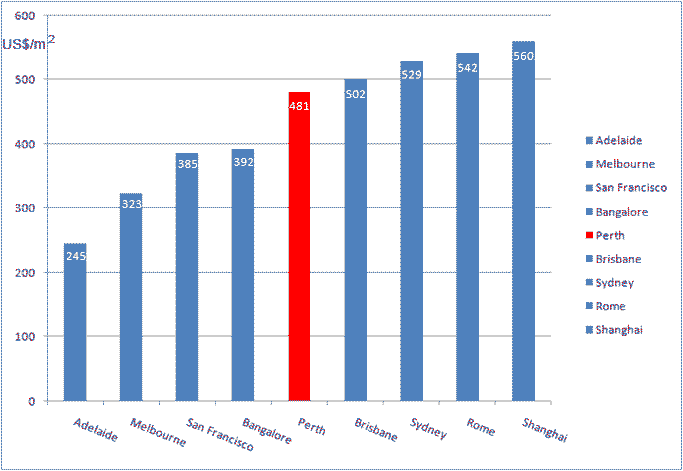 The 2022 average Perth office space rental cost is under $400 per square metre, compared to the cost of office space in Sydney at $1,000/sqm.
Use Perth business agents instead of setting up an office in Perth.
If your company has enough financial resources, buy a block of land in the Perth CBD and develop your own office space in Perth but beware of Western Australian government stamp duty.
If you don't have resources, I know some sheikhs who do have enough for Perth CBD property development, so phone me if you're sincere about office space property development in Perth. Perth office space rental represents good value in 2022.
Perth office space rentals are as diverse as that from the large corporate offices in the financial centre of St. Georges Terrace, Perth in the central business district, where Perth's skyscrapers overlook the beauty of the Swan River, to that of a small home office by the beaches of Perth.
Of the over 1 million square metres of office space in the Perth CBD, about 40 percentage is vacant.