ROTTNEST ISLAND
More photos of Rottnest Island taken during winter 2022 featuring beaches, fishing, accommodation including glamping (luxury tent camping), restaurants, cycling and other things to do at Rottnest Island. Rottnest Island near Perth Western Australia, is the must see playground of Western Australians. Rottnest Island has sheltered beaches no matter what the wind direction. Visiting Rotto is one of the bestthings to do in Perth for Perthites or tourists.
ROTTNEST ISLAND VIDEO
See my 2022 Youtube Video of Rottnest Island which includes Rottnest island accommodation and video of cute Quokkas near white sandy beaches on this little bit of Rotto paradise island near Perth Western Australia. It's similar to a paradise island where I worked in the hospitality industry for 10 years.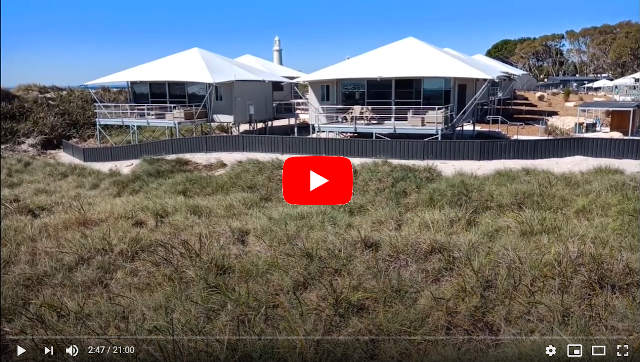 The video starts with getting to Rottnest Island from Hillarys Boat Harbour
TRANSPORT TO ROTTNEST ISLAND
Most boats to Rottnest depart via Fremantle or Hillarys boat harbour. Rottnest Island is 18 kilometres from these Perth harbours. It's about half an hour by road from the Perth CBD to these Perth harbours.
A fast ferry boat from Hillarys boat harbour to Rottnest Island departs at 9am and returns to Hillarys boat harbour, Sorrento Perth in the morning at 11am and afternoon at 4pm. Most of the return boat transport from Rottnest Island to Perth is in the afternoon.
Alternative transport to Rottnest Island includes by charter boat, or plane, Jandakot Airport to Rottnest. Private transport is a great way of getting to Rottnest with a group of friends. Snorkelling equipment and lunch is included in this Rottest Island day trip. Plane flights from Perth to Rottnest is an option for people who get sea sick. From Rottnest to Perth are emergency plane flights. Private sailing yachts and charter boat are an alternative to the fast Rottnest Island passenger boats. I once sailed to Rottnest from the Royal Freshwater Bay Yacht Club with class mate Guy Hobbs (IM) grandson of general Hobbs (IM).
ROTTNEST ISLAND BEACHES
Pure white sand beaches at Rottnest are protected by from sun and wind by limestone rock outcrops. Beautiful bays of clear Indian Ocean teaming with fish. Beaches on the leward side of the Rottnest islet are the best so pay attention to wind direction and Rottnest Island weather reports. As a rule of thumb it's best to enjoy the best beaches of Rotto on the south/west side of Rottnest first thing in the morning. Then when the sea breeze blows hard in the afternoon, beaches like the Basin beach on the northern side of Rotto are good and seltered from the south westerly sea breeze.



Thompsons Bay


Photo of Rottnest island from Scarborough Beach.
FISHING ROTTNEST
Fishing Rottnest Island reefs, beaches and game fishing west of Rottnest Island on the edge of the continental shelf is world class. Perth fishing charter boats, private fishing boats, fishing club contestants all enjoy good recreational sport fishing around Rottnest Island. Spear-fishing at Indian Ocean zones off Rottnest is restricted in designated areas.
There is a variety of accommodation on Rottnest Island and in different locations. Most Rottnest accommodation is near Thompson Bay, a sheltered east side bay where most boats approach Rottnest Island from Perth and anchor. Some for party central.
Accommodation at Geordie Bay is sheltered from the early summer strong south westerlies.

Boats moored near Rottnest Island accommodate hundreds of Perthites in summer.

Tentland camping ground.

Rottnest Island accommodation 2023 news is new Rottnest Island hotels are planned and will start taking online accommodation bookings in 2023. One hotel is part of and next to Hotel Rottnest.
Photo right is one of my client's hired cranes from Perth being used in the development of improved infrastructure on Rottnest Island.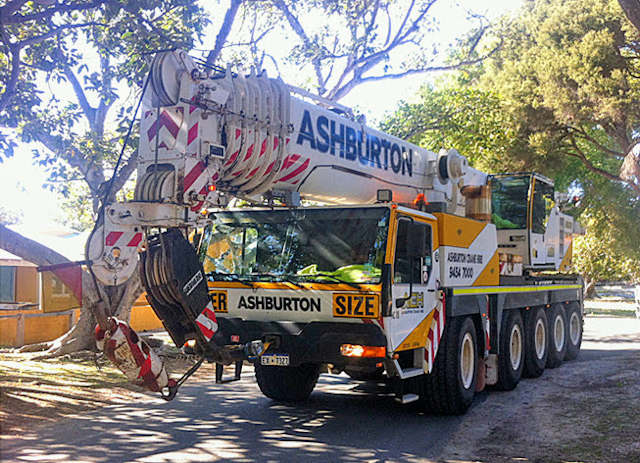 If you haven't been on a family holiday to isle of Rottnest for a while, let your overseas holiday be at Rotto this year. You'll be happy with the improved island accommodation options and improved quality. More 4 star and 5 star hotel are planned for Rottnest Island. Cheap hotel accommodation on Rottnest is in the off peak winter season when my video was shot. It's fine then because of the good climate on Rottnest Island. If you don't want overnight accommodation on Rottnest Island then leave for a Rotto day trip from Perth early in the morning.
The Rottnest climate is warmer than Perth in winter because it's out in the Leeuwin Current and because being a low island, rain doesn't form up but rather passes over the island.
SCUBA DIVING ROTTNEST
SCUBA diving is a popular at Rottnest. There are large underwater caves full of fish. Rottnest Island also has an historic SCUBA trail which connects various points of interest such as shipwrecks.

There are numerous Perth based, Perth to Rottnest Island charter boats which run CUBA diving trips to Rottnest Island.
SURFING ROTTNEST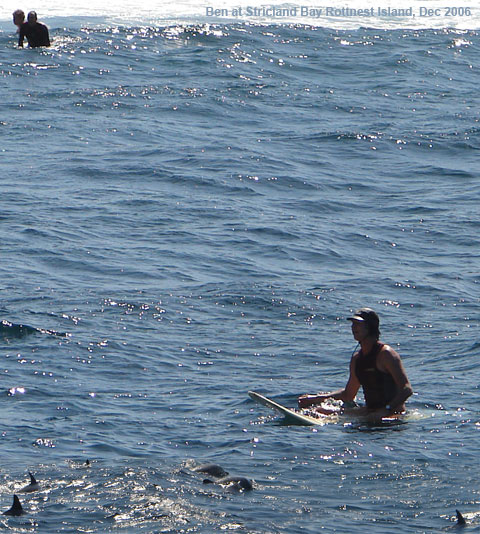 Surf at Rottnest Island is about 4 times bigger than surf at Perth Beaches. Surfing at Strickland Bay this morning inspired me to put this webpage about "Rottnest Island" together. I'm used to surfing a beach break at Scarborough Beach. The last reef break I surfed was at Hikkaduwa in 1976 so there was some fear which dissipated with the first wonderful ride. I didn't know when to stop and went almost to the beach. When I got off the wave I was standing on the seaweed covered limestone reef. The surf rolls in at Rottnest Island from the Indian Ocean, giving PLENTY of time to get surfing. Even if you wipe out, there's plenty of water between surfers and the reef. Fishing charter boats do fishing and surfing tours to Rottnest Island surf spots out of Hillarys Boat or from the port city of Fremantle.

Photo of me surfing with a pod of surfing dolphins at Rottnest Island.
Kitesurfing and windsurfing at Rottnest Island are also popular.
ROTTO THE ISLAND OF LOVE
I had my first "pash" at Rottnest with an exciting, young beautiful Perth girl "Loverock" older than me circa 1967 in a tent at the Rottnest Island camping ground known as "Ten Land". There are many bungalows but because Rottnest accommodation is very popular you need to book MANY months in advance if you want accommodation at Rottnest in peak summer season.
THINGS TO DO ROTTNEST ISLAND
Following is a list of some of the 10 best things to do on Rottnest island. Many of the free things to do are some of the best things to do on Rottnest.
Swimming at the beach. Hotels with swimming pools on Rottnest are for hotel guests.

Cycle arround Rottnest. Take food and water. Start cycling around Rotto soon after breakfast to make it an all day thing to do at Rottnest Island. See the many tame quokkas by the side of the bitumised island ring road. Stop off for a swim. Bring your bike from Perth or hire a bike on Rottnest.

Go fishing at Rottnest from the beach for herring or fish for bigger fish from a boat. You'll need a licence to catch crayfish at Rottnest. Fishing for squid at night is popular.

Surfing.

Checkout the World War II army tunnels and artillery bunkers.

Kayaking.

Dining. Enjoy a meal at a Rottnest restaurant or fast food outlet such as the Rottnest Island bakery or icecream parlor.

Watch a movie at the local Rottnest Island cinema.

Play golf at Rottnest.

Catch the train which is planned to be converted to a tram on an extended line out to the big light house in the middle of Rottnest Island.

Party at Rottnest. Rottnest is a popular school leavers destination in November. Bad behavior of a small minority of schoolies is delt with by local Rottnest island based police who deport badly behaved schoolies back to Perth on the next boat.

QUOKKAS ROTTNEST ISLAND
Rottnest island camping tents have been left open for courtship resons but if you fell asleep, quokkas, Rottnest's little furry creatures which look like big rats, would get in to eat your food. Rottnest Island quokkas are the reason early Dutch sailors gave the island the name (rat) Rott-nest.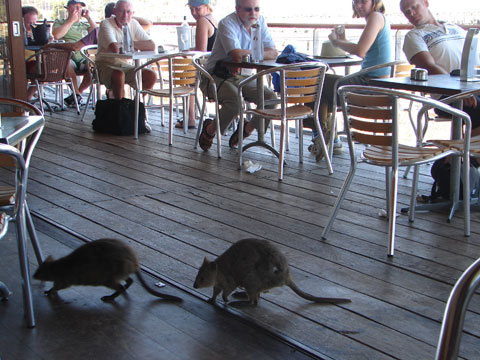 There are food stores and restaurants at Rottnest. The Rottnest Island bakery is worth waiting for breakfast.
Transport on

Rottnest Island
Our favourite transport on Rottnest Island is by bicycle or kayak.
A hop on hop off bus service circles Rottnest Island. A small train service is a vailable too.
The small number of service vehicles on Rottnest have a slow 8km/hr speed limit.
Bicycle hire on Rottnest is popular. Private cars are not permitted on Rottnest Island. You can bring your bike by boat or hire bicycles from nearby Hotel Rottnest. Cycling around Rottnest is one of the best family things to do on idillic Rottnest islet.
Big map of Rottnest Island