Perth North Seminar Room Hire Phone Number
For the best seminar rooms in Perth's northern suburbs call Flowspace at North Beach on phone number (08) 6314 3061. There's free street parking and good onsite, friendly, helpful seminar room facilities support by helpful staff.
Seminar rooms for hire in Perth vary in style, size, Perth location and use. Whether you are looking to hire a small seminar room, a medium-sized boardroom, or larger seminar and training rooms in Perth, these tips can help you decide which Perth seminar room provider can benefit your business the most.
The photo of the Flowspace seminar room above is at their modern, well lit, seminar rooms in Perth WA. Benefits of Flowspace seminar room includes:
With plenty of free nearby parking,

Good Flora Terrace cafes,

Friendly helpful staff,

High speed internet access,

Affordable seminar room hire rates in Perth.
Flowspace provides the seminar room for hire in Perth's northern suburbs. Phone number of Flowspace is (08) 6314 3061. Jo their seminar room and co-working space manager is very helpful.
When hiring a business training room, consider if the provider and location you choose make it easy for you and your prospects, clients, or business associates to get to the venue, meet, share, collaborate, learn from each other, and even take productive breaks between meetings, to relax, catch up with work or answer emails.
Seminar Room Hire Factors to consider
Helpful support staff.

Seminar room IT facilities.

Whether the range and size of seminar spaces for hire suit your purpose (meeting, boardroom, training, seminar room, or workshop)

If the layout and ambience of the seminar venues sets the right tone for igniting synergy in the meeting of minds

If you can get reliable fast Internet access, supportive business services, and access to seminar equipment such as data projectors.

Value you are getting for the price you are paying
Depending on your requirements a Perth boardroom hire charge can vary greatly. Access to whiteboard and data projector is expected, but is there a break out area you can use, as well as catering? In between meetings, do you have dedicated workstations where you can access the Internet via a wireless broadband connection, and could you walk into a networking event after hours to explore new business opportunities in a designer environment built to impress?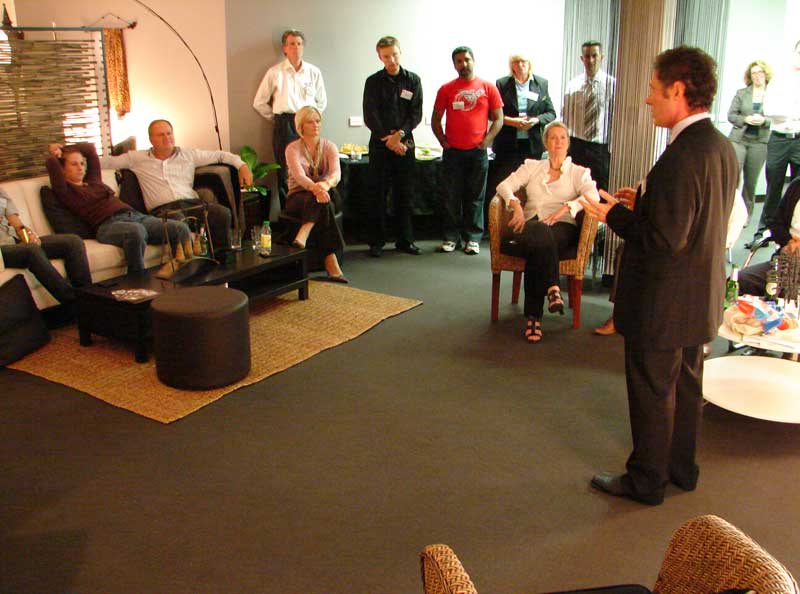 Dr Joe speaking at a seminar, in easy to understand terms about health for Perth business people.

The same goes with a Perth meeting room hire: Is the Perth venue you hire cost effective yet designed to present your corporate image favorably, from a well-appointed reception to a fully equipped seminar room, from which participants could break out into tastefully designed smaller rooms? Is it fully supported by business services in close proximity, and does it go beyond providing space to link you to a network of entrepreneurs what could provide new business opportunities?

Essential, the greater the variety of meeting spaces, business services, and real value you can tap from one provider, the more success you can derive out of your choice.

Expert SEO Perth 4 Web Marketing