Indian restaurants in Perth on the other side of the Indian Ocean from India serve delicious Indian food, fast, at affordable prices and with friendly service.
Indian restaurants in Perth derive their Indian cuisine from north and south India. Hot spicy Indian curry especially vindaoo goat, is a favourite dish of mine. Indian food is my favourite cuisine so if you manage an Indian restaurant in Perth, don't hesitate to contact me, a food critic, in Perth to write and take videos / photos of your Indian restaurant in Perth for a feature on this directory of Indian Restaurants in Perth.

Most most Indian restaurants in Perth cook the cuisine from Punjab in northern India. The Punjab is the food basket of India. We have also enjoyed Nepalese restaurants in suburbs of Perth south of the Swan River which are on Bartercard.
Perth has some of the best Indian restaurant outside of India.

India's south west coast including Kerala is known for very hot spicy food.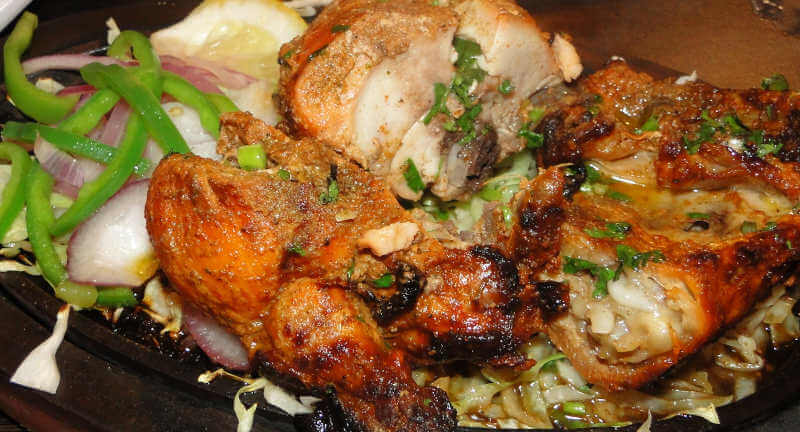 Delicious chicken Vindaloo at Sankalp Indian Restaurant Perth.
Youtube Video of Closed Indian Restaurant in Perth





Indian restaurants in Perth's northern suburbs include Punjabi restaurants, buffet Indian Restaurants and Indian funtion centres for things like Indian weddings.

Southern Indian cuisine. Dine in or takeaway. Order Indian food catering for something different for your next business or social function.
Video of now closed Indian Restaurant North of the Swan River, Perth

Best Indian Restaurant in Perth's northern suburbs in shopping centres, north of Swan River. Follow links in the photos slide show to ontact / reservations telephone numbers of Indian restaurants in Perth.
ADVERTISE YOUR INDIAN RESTAURANT NORTH OF PERTH'S SWAN RIVER HERE
BENEFITS OF ADVERTISING ON indianrestaurantperth.com:
Get your Indian restaurant ads/photos at the top of this web page.
Your linked pin on the Google winning page for "

google map restaurants perth

"

Free digital marketing advice.

Free photography.

Free review marketing.

$1 Bartercard dollar per day. At that price can your restaurant afford not to be listed in the Indian Restaurant directory of Perth?

See more benefits of restaurant advertising in Perth. Example below of 100% free online promotion of an Indian Restaurant in Perth.

Contact me if you'd like me to take some free promo photos of your Indian restaurant in Perth's northern suburbs near me where I live. A $50 travel fee is required for Punjabi/Nepalese/Indian Restaurants in Perth's southern suburbs. Anyone can take a photo but only I own IndianRestaurantPerth.com to publish your free Indian restaurant's Perth online advertising.
Some Indian restaurateurs in Perth take Bartercard payment. CONVERT trade dollars INTO CASH. BY BUYING ONLINE ADVERTISING ON THIS INDIAN RESTAURANT PERTH WEB PAGE. If your Indian restaurant in Perth is not using a trade exchange, know that in 2023 Bartercard's zero joining fee and thousands of dollars of instant line of credit is available to you. All Perth Indian restaurants get a free listing on the Google winning page for "
google map of restaurants perth
" and a free review on their
Google My Business (GMB Renamed to Google Business profie in 2023.