Seeking experienced sales reps for marketing and sales job in Perth.
Seeking a business development manager to build a team of sales people for your OWN autonomous online sales business. Sales training in Perth provided to help grow YOUR sales business. Retainer plus 40% commissions with trailing commissions of 30%pa. Set your own sales plans and pricing structure.

The directory business is the most profitable divission of Australia's largest telco. There are MANY useless directories which don't do the job providing sales value to listed customers. They may look good with fancy graphics; they may blitz traditional media with brand marketing campaigns but if hardly anyone looks at their clients' ads in these useless directories, it's a waste of their client's web marketing budget. Worse still they sell a feature of link building but don't tell customers that the links are useless for search engines, nofollow links. Your sales job is to get listings in THE most popular website about Perth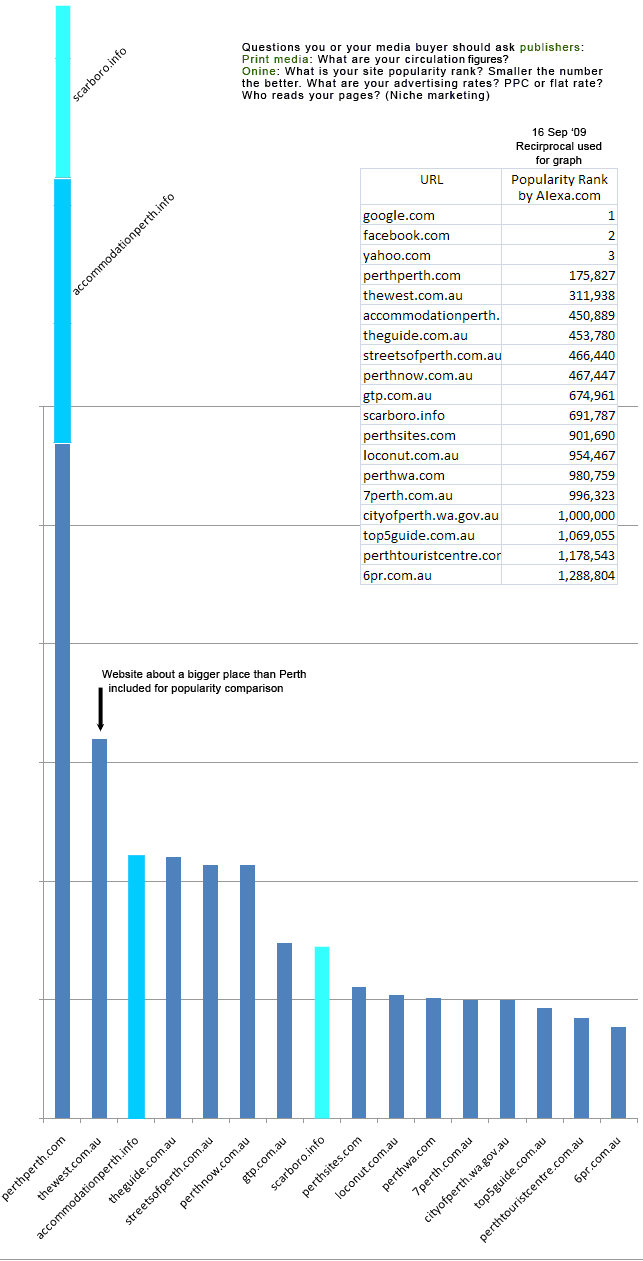 4 Web Marketing have developed the VERY popular PerthPerth Business Directory and are looking for a team of motivated sales professionals. Their sales job in Perth is to show potential clients of the benefit of listing.
Speaking from the heart, it is an easy sales job. Most useless directories charge a flat fee rate over a month or year method of payment, whether they perform for their clients or not; usually not. PerthPerth.com has a pay per click (PPC) rate method of payment (= pay for performance)
For a start PerthPerth is 1st on major search engines for phrases such as "business perth" "lawyer perth" "printer perth" etc. and our other directories are 1st for "real estate agent perth", "accommodation perth" etc. This represents a HUGE opportunity for business without the time, skills or resources to continuously market their website's message at higher levels. PerthPerth does this with over 1 million page views per month by the 100,000 visitors per month.

It is proposed that this will be YOUR sales business, supplying listings, acting as a media buyer. If you ever thought that half of each sale going to you is not generous enough, then you could always supply your clients ads to other online directories. 4 Web Marketing has developed these directories, we need you to manage road warriors with the job of explaining the fantastic cost benefits compared to other, traditional media and compared with PerthPerth useless competitors.

If you're interested in passive income sales jobs in Perth year after year, contact me in Perth
If you are a recruitment agency consultant in Perth you can add value to your client's event, free of charge in the Perth Calendar of Events. Why? Because it's first on majors search engines for the phrase "calendar perth" Can you afford $7 per week advertising your job training or job placement firm in PerthPerth? Job ads on the HOME page are even less. You can either advertise discount direct with statistics or via a media buyer/broker such as Google's Adwords. DIRECT job advertisers with PerthPerth can offer a 15% discount for listing their clients' jobs in our Perth directories in the right category. Eg if you're advertising jobs in the mining or oil and gas industries you can list them in the Job Ads Perth Forum for free or for a small fee on this "jobs Perth" webpage. Benefit to the jobs centre. It's well positioned on major search engines. Benefit to you: Kudos or if you want and or income by packaging your job matching services with directory advertising. Contact Ben if you are a jobs consultant in or near Perth. I ran "Hot Jobz" in the Goldfields mining industry in the late 90's, after being involved in the academic side of minerals processing, which helped get 92% of long term unemployed locals into mining jobs. With experience in both the mining industry and oil and gas industry I'm happy to continue consulting to recruitment firm job consultants (some of which are listed for free above for a few months) only but not job seekers.