Professional development training of your Perth staff improves productivity and business efficiency.
Professional development training improves staff moral and confidence.
Professional development training is a tax deduction.
Professional development training assists in networking staff from various department and with other Perth businesses.
Professional development training can be used for staff assessment.
Successful professional development is often incentive for staff to take up further professional development.
Professional development training venue with the latest software and PCs is located at
4 Karrinyup Road
Trigg (Perth) Western Australia.
Inspections of our training facilities by appointment only.
Contact us if you would like us to design a customised professional development training course suited to your staff needs about productivity business software packages
In summer, reward your staff undergoing professional development training close to Perth's Scarborough Beach.
Who is our is our professional development training in Perth suited for?
Managers
Advertising, marketing, Public Relations, events promotion executives.
Teachers, lecturers, educators, instructors, librarians, high school and university students, academics. I know I was one for 13 years
GMs, CFO, CTO, CIO, IT manager
Graphic design artists, printers
Bookkeepers, accountants
Hoteliers and Perth accommodation managers
Tourism Operators
Professional development is important for teachers, engineers, experienced business managers and other executives, etc. If your professional staff have different cultural backgrounds, they'll be in good hands. Professional development training manager, Ben Grummels has formal cross-cultural training by the Australian Overseas Service Bureau.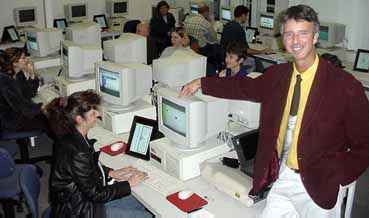 Talk with Ben Grummels, (Australian Institute of Management Member) about how your government small business training subsidy might be invested in accredited training providers professional development of your staff in Perth. Talk with us about discounts for bulk training or training for Perth philanthropic charities.
Perth Professional Development Training Manager



Western Australia
INTERNET TRAINING
BUSINESS SOFTWARE TRAINING
Perth Links